Submitted by

Jeff

on Wed, 2016/10/05 - 11:15am
Atlanta's first 365 by Whole Foods to anchor mixed-use development in Decatur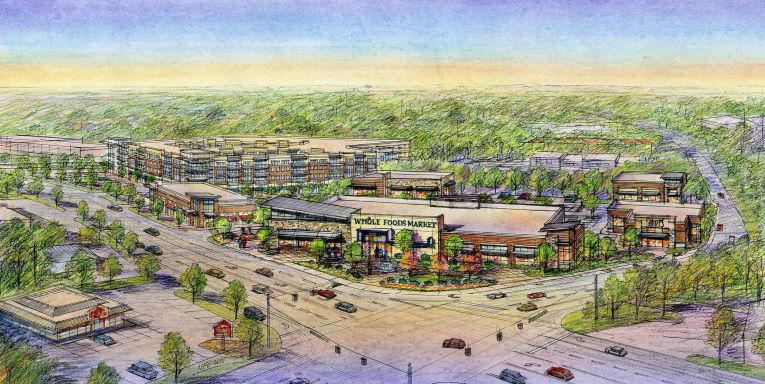 Metro Atlanta's first Whole Foods 365 store is coming to Decatur as the anchor for a new mixed-use development that will have a heavy focus on connectivity and walkability thanks to community input.
The North Decatur Square development, located at the intersection of North Decatur Road and Church Street, will include a 35,095 square-foot 365 by Whole Foods; more than 54,000 square-feet of retail and commercial space; and 300 multifamily residential units, including units designated for workforce housing.
The site's anchor, 365 by Whole Foods, is a smaller, more affordable store concept, with fewer options than the chain's regular stores and a larger focus on the lower cost 365 Everyday Value brand of products.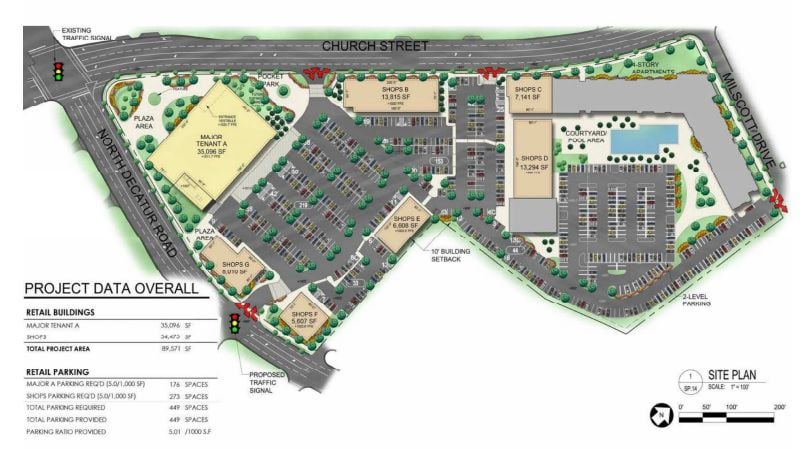 DeKalb County commissioners unanimously approved applications concerning the development, including re-zoning ordinances, for the development.
Commissioner Kathie Gannon of district six said getting the development to its final stage was a collaboration between developers S.J. Collins Enterprises, the community and her office. Through a series of discussions, she said they were able to ensure the most important elements were put into the site plan.
Based on feedback from community groups, a number of improvements were negotiated into the project, according to Theresa Same with the DeKalb Cross Neighborhoods Council. These included more green space, the installation of upgraded pedestrian crosswalks and installation of additional traffic signals and signage to increase walkability and bike access.
Same, who lives in the Medlock neighborhood, said adding multi-use paths throughout the site was one of the most important issues for the council — made up from representatives from a number of surrounding neighborhoods.
Now, the site will feature ten-foot sidewalks with six-foot landscape buffers to help shield pedestrians from the street.
"I am most excited about how the multi-use path will connect nearby DeKalb Medical, Springdale Heights just south and my neighborhood, which is half-a-mile away," Same said. "It will all be cohesive now and connects an area we have not previously been able to walk to."
The built-in connectivity of the site will enhance the live, work, play elements by allowing anyone who lives on-site to park their car once and be able to walk everywhere easily from there, Gannon said.
Davis Fox, a policy analyst with Gannon's office, said negotiations also involved ensuring substantial tree coverage was provided along Church Street and North Decatur Road. The current site plan calls for a tree canopy consisting of roughly 400 trees across the site..
"Good urban design includes street trees, which are essential because they provide pedestrians with a canopy to walk under and beautiful scenery for drivers as they pass through," Fox said. "Aesthetically, it is one of most important things that can be done in redevelopment."
Affordable housing has been built into the plan as well, with the developer voluntarily offering to designate at least ten percent of the proposed 300 units for workforce housing, according to Fox. These units would accommodate workers who earn low to moderate incomes.
Same said she was impressed by the developer's willingness to listen to what the community wanted — specifically with three public meetings they hired the Sizemore Group to facilitate concerning greenspace on the site.
"The developers said they could design the green spaces, but they wanted to hear what our community wanted [...] and to let us help design them," Same said. "It was a great process for people to be able to really help shape this into a space that will be used."
Gannon said a new type of population is being addressed with these kinds of developments — one that wants to trade in the family home with a backyard for housing that does not require driving in from the suburbs.
"We have picked up on that need and now planning codes are built around these concepts," she said. "When we started, 'mixed-use' was a big apartment complex with a single coffee shop thrown in it. Our development community has finally figured it out, and now we have a much better grasp."
This development and a number of others have been guided by the 2014 Medline LCI study, according to Gannon. The study took a look at 520 acres in unincorporated DeKalb in order to help guide developments to create a healthy, well connected and livable community.
The missing link now is transit, according to Gannon.
"This is a future transit corridor, once we find a way for state and county to provide more transit funding," Gannon said.
North Decatur Square is expected to open summer of 2018.