Submitted by

admin

on Mon, 2020/06/08 - 1:50pm
Roswell officials celebrate the start of Southern Post with a groundbreaking ceremony
The first steps have officially begun to make a long awaited redevelopment project in downtown Roswell a reality.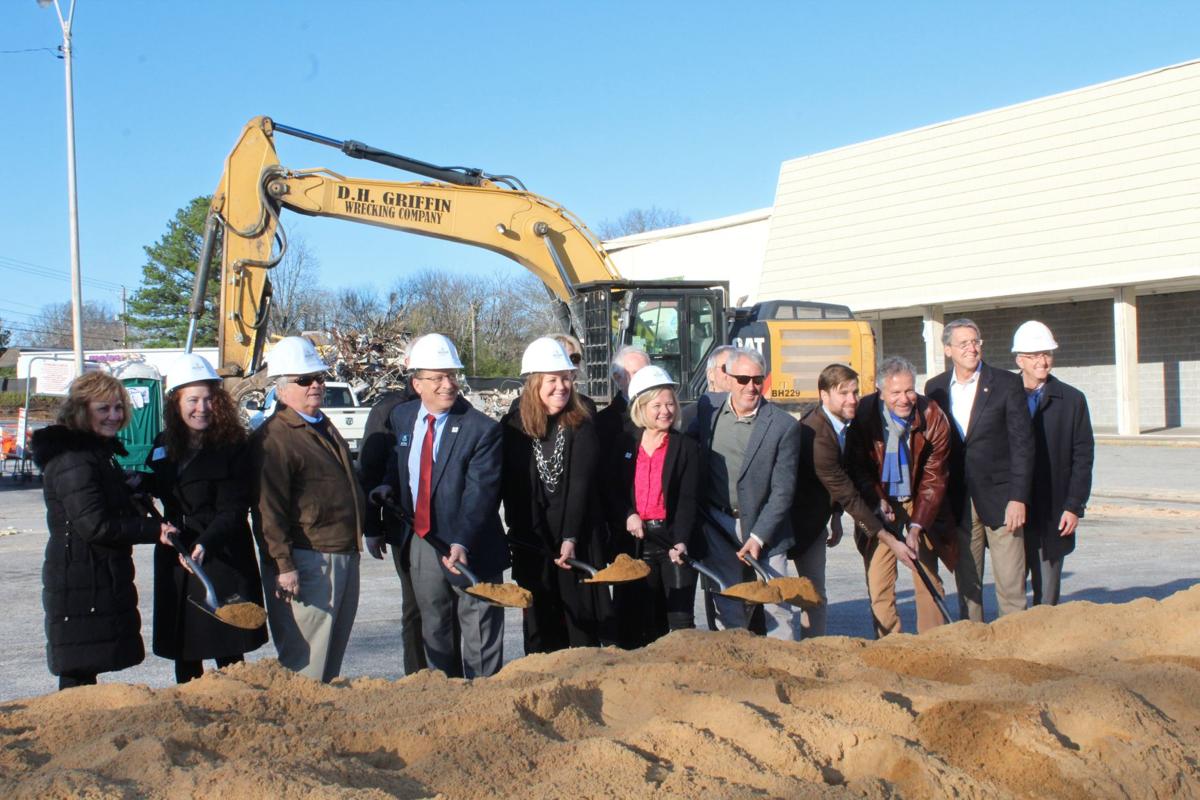 On Feb. 27, Roswell Mayor Lori Henry, members of the Roswell Downtown Development Authority and Roswell Inc. as well as team members from S.J. Collins Enterprises and Armada Hoffler Properties were on hand to celebrate a groundbreaking ceremony for Southern Post, a modern style mixed-use development project that will be located downtown at 1037 Alpharetta Street.
"I've lived in this neighborhood for over 30 years and have a history of shopping here, but it's changed," said Henry of the former shopping complex, already being torn down, which included a small market and donation drop off center. "This is a transformational project for the city of Roswell and an investment in our city. We know if this project succeeds, we all succeed."
Southern Post will include 40,000 square feet of retail space, 90,000 square feet of loft style, open-concept office space, 128 luxury apartments, and 10 townhomes with garages. According to Justin Latone, senior vice president of leasing at S.J. Collins Enterprises, a parking deck is also part of the project.
"There are already so many unique restaurants and businesses here in this area and we're excited to bring more of that here. We're working specifically with local and regional restaurants that will have outdoor patio spaces and take advantage of the open container license in the city of Roswell. Alive in Roswell is expected to spill out over here into our project and we're working on parking for when that's going on. In the future, expect to see things unique to Roswell that are not here currently. For example, the office component of our project is certainly something that doesn't exist in this area and we think it will be well received," said Latone.
Construction will be ongoing and officials did not give a date of completion at this time. "I know this will be a long project and we're not sure on the timeline. We just want to thank the citizens of Roswell for dealing with the construction for the time to come," said Henry.
Once considered a hometown favorite for country cooking, the Southern Skillet closed in January 2011. In 2016, the Roswell Downtown Development Authority began managing the city-owned property and looking for a developer. Last year, Roswell Downtown Development Authority selected S.J. Collins Enterprises to redevelop the Southern Skillet Plaza site, after an agreement of a site plan could not be met with the first developer chosen — the Beecham Group. S.J. Collins Enterprises partnered with Roswell design firm Linen & Flax Home and Armada Hoffler Properties and the project was officially renamed Southern Post — "a way to pay homage to Roswell's historical charm and the notion that the new development will be a part of the community where people can gather together." Roswell city council approved a new site plan for the mixed-use center, and in November, the land purchase was official.